Agricultural Products
: 1 Listings
1
Sponsor
YELLOW PAGES
Ensure accurate
Category:Agricultural Products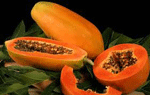 Phuong Nha, Hong Phuong, Yen Lac, Vinh Phuc, Vietnam
+84 988413454
*Business style: Manufacturer
➤ More than 2 hectares of cultivated land and only focus on two main fruits
➤ High seasonal productivity ensuring sufficient supply to wholesale, retail & consumer agents.
Vinh Phuc - Proudly supplies the market with all kinds of Papaya & Banana delicious, nutritious & absolutely safe hygiene. + Detail...
ADD BY YELLOWPAGES
ADD BY YELLOWPAGES
ADD BY YELLOWPAGES
ADD BY YELLOWPAGES
ADD BY YELLOWPAGES